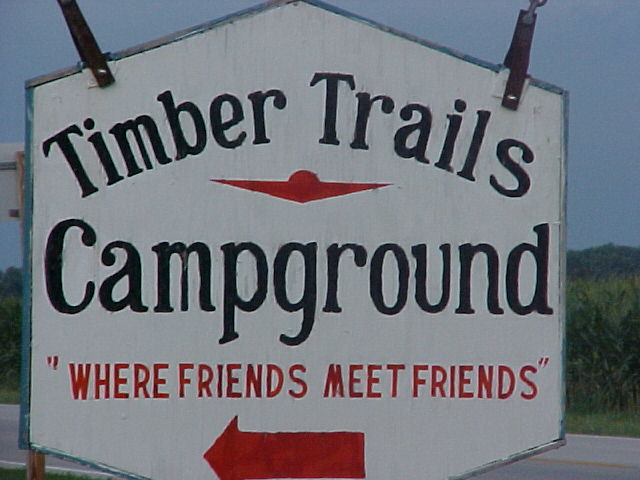 Updated 12/23/2018
(618) 326-8264
1276 MATTS LANE
MULBERRY GROVE, ILLINOIS 62262
A FAMILY-BASED CAMPGROUND LOCATED IN SOUTH CENTRAL ILLINOIS
YOUR HOSTS ARE SCOTT, JODY AND SCOOBY

WE ACCEPT SEVERAL DISCOUNT CLUBS,
WE DO NOT ACCEPT CREDIT OR DEBIT CARDS
NO CAMPER OR RV IS TOO BIG OR TOO SMALL
100ft PULL THROUGHS FOR THE REALLY BIG CAMPER OR RV
WE ARE LOCATED JUST 2 MILES NORTH OF INTERSTATE 70. FOR MORE INFORMATION CALL
(618) 326-8264


FREE WI-FI AVAILABLE!!!


The 2018 Schedule of Activities has been posted, click on link below!

E-MAIL

MAP AND DIRECTIONS

MAP OF CAMPGROUND

DESCRIPTION OF WHATS AVAILABLE

SCHEDULE OF ACTIVITIES

SOME PICTURES OF THE CAMPGROUND

CAMPGROUND RULES


SHORT VIDEO OF OUR KIDS DAY PYRO MUSICAL


Timber Trails Recycles!!!

Save your aluminum cans to cash in and put towards the campground fireworks fund!!!

YOU ARE VISITOR NUMBER
Free Counter